12/10/2012
|
by Neil Browne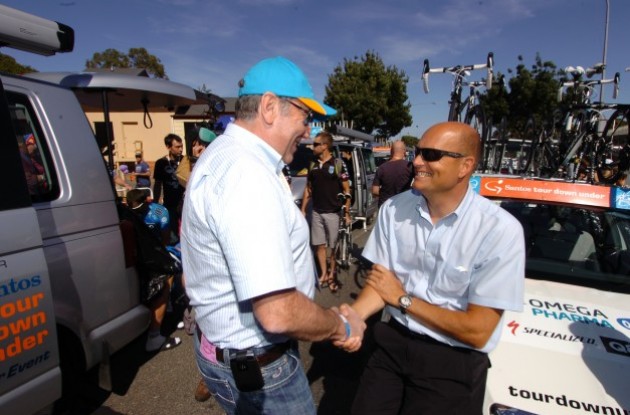 So many topics - So little time
Just when you think the off-season news cycle might slow down, it kicks into overdrive.
Thanks to everyone who read last week's column, " What Direction Will The Winds Of Change Take? ". I thought it would get the conversation rolling regarding Change Cycling Now (CCN). What surprised me was the amount of feedback I received regarding the inclusion of Scott O'Raw, co-founder of the Velocast podcast and Festinagirl, a passionate cycling fan, and until very recently, an anonymous Twitter account, as guests of the CCN meeting.
My Twitter timeline blew up with comments from a few people and suddenly I was in a vortex of answering questions that I thought I was included in...but maybe I wasn't, but my Twitter account name was included... It was all very confusing and exhausting. I have no idea how Jonathan Vaughters manages to have a meaningful debate limited to just 140 characters. It's like standing in the middle of a room while people shout questions at you all demanding an answer.
The now not anonymous Festinagirl emailed me explaining her position at the conference, outed herself as Suze and why she was anonymous on Twitter. A reader of my weekly column might note I have no problem with anonymous accounts and gave thanks to RaceRadio and the UCI_Overlord a couple of weeks back. I realize people have day jobs they need to protect or in some cases being unknown can be leveraged into gaining more information.
I appreciated her email and I still stand by my original thought that CCN is a great start and will have some growing pains like any organization does.  I know Suze and Mr. O'Raw will continue to be passionate fans and drive the sport forward for a clean future.
Another email I received was from someone I have immense respect for – Paul Kimmage. I want to take the time to pat myself on the back as he said my Roadcycling.com column was "well written as ever and a lot of valid points." This quote is now a bullet-point on my resume and I'm adding it to Vaughters stating I was an iconoclast.
However, Mr. Kimmage pointed out that I had written everyone on the board of CCN had made money in the sport, which to quote myself, isn't a bad thing. However, he assured me that wasn't the case for him.
Mr. Kimmage was a professional cyclist for Fagor up until 1989 and from there he has written for various newspapers (The Sunday Times-Dublin, The Sunday Independent - Dublin, The Sunday Times - London) and has had five commissions since losing his job in January at The Sunday Times. He asked me at the end of his email if I'd confused him with Paul Sherwin. Ouch!
I definitely had not confused Mr. Kimmage for Paul Sherwin. If that was the case it would be time for me to hang up the keyboard and spend my time puttering around the garden yelling at squirrels and lawn gnomes. So I stand corrected – Paul Kimmage hasn't made money off of cycling like I inferred. To be clear I don't think it's wrong for journalists
Your comments