10/11/2013
|
by Reuters and Roadcycling.com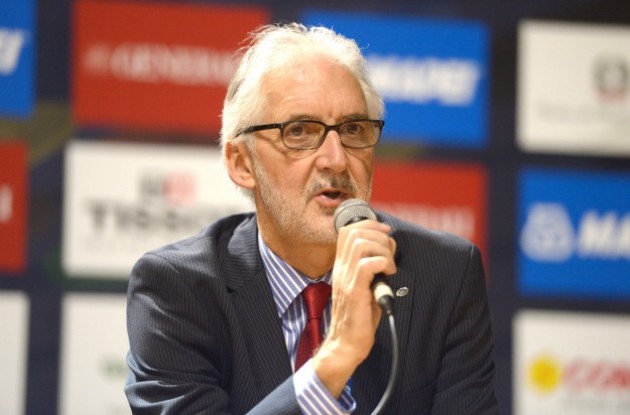 UCI's Cookson opens talks with WADA over investigation into UCI
The International Cycling Union (UCI) has contacted the World Anti-Doping Agency (WADA) to start discussions for an independent investigation into cycling's governing body, new UCI president Brian Cookson said earlier today.
Cookson, elected to the post two weeks ago ahead of previous incumbent Pat McQuaid, had based his campaign on restoring trust in the UCI, which has had a difficult, and at times acrimonious, relationship with various anti-doping agencies.

The UCI was also criticised heavily for not doing enough to catch drug cheat Lance Armstrong, who last year was stripped of his seven Tour de France titles following an investigation by the United States Anti-Doping Agency (USADA).

"We have started the work of establishing a high level dialogue with WADA to plan how we will proceed with the independent investigation into the UCI's past," Cookson said in Beijing while attending the Tour of Beijing.

"We have also been making contact with other key stakeholders in this area, including USADA, other national anti-doping organisations and the French Sports Ministry.

"And earlier this week I called (journalist) Paul Kimmage to tell him that the UCI has withdrawn from the legal action against him," added the Briton.

Under McQuaid, the UCI last year began legal proceedings against Kimmage for defamation which were then put on hold.

"These early days are very important for the UCI," Cookson explained.

"We have embarked on the process of implementing our manifesto commitments so that we can re-establish our international federation's reputation and make it the best and most respected in the world. I believe that we have made a good start."

Roadcycling.com's request for an interview with Cookson has so far been left unanswered.
Your comments