08/14/2012
|
by Mark Watson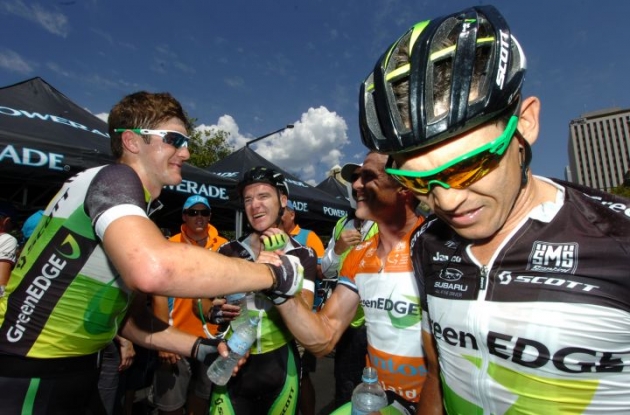 Team GreenEdge Reveals Roster for 2012 Vuelta a Espana
Team GreenEdge has revealed its nine-man line-up for the 2012 Vuelta a Espana, which begins with a team time trial on Saturday, August 18.
Team GreenEdge has revealed its nine-man line-up for the 2012 Vuelta a Espana, which begins with a team time trial on Saturday, August 18.
According to a team spokesman, the team's roster has been built with a focus on stage victories and an emphasis on young rider development in an attempt to further mature its young riders before the 2013 season.
The nine riders included in the Australian GreenEdge team's Vuelta roster are: Allan Davis, Cameron Meyer, Daniel Teklehaimanot, Julian Dean, Mitch Docker, Pieter Weening, Simon Clarke, Travis Meyer and Wesley Suzlberger. Christian Meier has been selected as first reserve.
According to Team GreenEdge sports director Neil Stephens it was difficult for the team's management group to select the riders to include in the Vuelta line-up. Yet the management team has allocated Vuelta roster seats to multiple young riders who lack important Grand Tour experience.
"We had more riders deserving a spot than we had spaces. We chose an equal mix of riders that have the capability to produce results and riders the would benefit from a three week tour as part of their development as professional cyclists."
A total of four riders will make their Grand Tour debut with the GreenEdge team in the 2012 Vuelta a Espana. Travis Meyer, Mitch Docker, Simon Clarke, and Daniel Teklehaimont each have distinctly different goals for their first three-week stage race.
Clarke targeted top performances at the Ardennes Classics and Tour of Norway earlier in the season, finishing second overall in the Norwegian stage race. The second half of his season has been firmly focused on preparing for the Vuelta.
"Simon has shown repeatedly that he's able to provide team support in different types of races," Stephens explained and continued "He's also well-suited to punchy finishes because he's light and explosive. He comes out of Burgos in good condition, with two stage podiums, and we may see some strong personal performances from him during the Tour of Spain."
Meyer holds a mixed bag of strengths, which makes it difficult for Stephens to categorize his rider. The 23-year-old has had success in time trials, one-day races and shorter tours.
"Travis (Meyer) is a good all-around worker for the team," Stephens commented and added "He's a bit of a surprise package in that we see him do well in one area and think he's found a niche and then he'll turn around and do well somewhere else. He's been a nice surprise up until this point. I saw solid indications of his ability to handle a heavy workload on behalf of his teammates at Burgos, and we're eager to see what he's capable of in a three week race."

African rider Daniel Teklehaimanot, like Meyer, is in the early stages of his development as a pro rider, but his strengths haven't gone unnoticed by GreenEdge's management group. The neo-pro from Eritrea could develop into a world class climber. First, he needs to learn how hard he can push his body and how to endure the accompanying suffering.

"Daniel's inclusion into our Vuelta squad is a crucial step in his development," explained Stephens. "He has become a smarter and stronger rider throughout this year, and there is no better place for him to test his improvements than at the Tour of Spain. Dan will need to takes notes from his teammates and staff to make it through the three weeks. We're here for him to help him make it to Madrid."
An early season injury forced Mitch Docker to switch his pre-season focus from spring classics to racing on the hot roads of Spain.
"Mitch has progressed well during the second half of the season," Stephens explained and elaborated "He's well ahead of the mark we set for him. He showed huge improvements in Poland and further gains at Burgos. He will be an important rider in all aspects of our performance, especially in our sprint train."
The sprint train of which Docker will be a part has been created for Australian Allan Davis. The Queenslander boasts four second place finishes and one third, the most recent stage podium coming from the Tour de Suisse. A pair of fourth place finishes at Vuelta a Burgos were encouraging signs for Stephens.
"Since the start of the season Allan has shown that he's around the edges of that top tier of sprinters," according to Stephens. "He had a long break in July, and I am happy with what I've seen since he's come back from that rest. We expect to see Allan factor into various bunch sprints throughout the three Vuelta weeks in Spain."
Veteran rider Julian Dean will prove another key component to Davis' sprint train and also gain the shared role as capitain de la route. The rider from New Zealand has long been considered one of the best in the lead-out business. On previous teams Dean has worked for sprinters such as Thor Hushovd and Tyler Farrar.
Dean missed most of the season due to two untimely injuries. His first injury took him out ahead of the season start. His second, a broken leg suffered during the Volta a Catalunya, forced him to the sidelines only two days after he returned to racing. According to Stephens his current form, despite two serious injuries, underlies his tenacity in the face of unplanned circumstances.
"Julian has ridden a similar summer program as Mitch. Like Mitch, he's ahead of the mark we've set for him. Julian clearly suffered during Burgos, as did most of the field, and he became reacquainted with what it feels like to suffer to that degree. Julian's a tough rider, and he rides 100 percent for the team. In certain regards, he'll act as team leader on the road during the race."
Pieter Weening provides additional experience. The only rider among the nine to also take part in this year's Tour de France, Weening will target stage wins in the Vuelta.
"Pieter performed well at the Tour, but he left with a desire to do an even better at the Vuelta," explained Stephens and continued "We've spoken about his goals, and we know a good overall performance might be difficult after a solid Tour de France, so we're looking to him for strong individual showings on key stages."
Cameron Meyer began his development as a stage race overall contender this season, and his progression continues with a leadership role at the Vuelta a España. The older of the two Meyer brothers finished tenth overall at Tirreno-Adriatico and narrowly missed the top-ten, in 11th place, at the Amgen Tour of California.

"Cameron can time trial, climb and position himself well in the bunch," Stephens said appreciatively and added "He has many of the qualities we seek in a rider who can perform well on the general classification of a longer stage race. We're looking towards Cameron as our only rider to focus on overall results. He'll have support from his teammates when possible in the mountains."
According to a team member Wesley Sulzberger offers Team GreenEdge a final wild card amongst its nine Vuelta roster riders. Said to always be ready to ride on the front for his teammates, the Tasmanian is equally comfortable taking his chances from a breakaway group as he is setting tempo on the front of the bunch.
"Wes has shown a lot of promise as a developing rider," Stephens elaborated. "He has a wide range of talents that we're able to use. We're confident that he can handle the early work the team will require to do on certain stages."
"All in all our entire Vuelta line-up is looking forward to the first Spanish Grand Tour for our team. I'm confident this year's final Grand Tour will bring some great results for us along the way," Stephens concluded.

Team GreenEdge roster for the 2012 Vuelta a España:
Allan Davis, Cameron Meyer, Julian Dean, Pieter Weening, Mitch Docker, Daniel Teklehaimanot, Simon Clarke, Travis Meyer, and Wesley Suzlberger
Reserve: Christian Meier
Stay tuned to Roadcycling.com for complete coverage of the 2012 Vuelta a Espana including video highlights (U.S. only) from all stages of this year's Vuelta.
Your comments