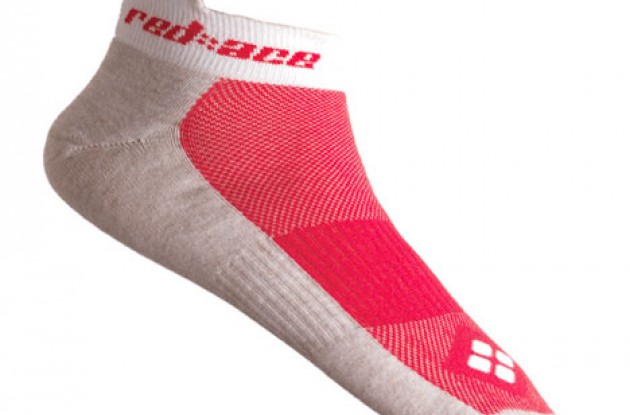 Product Review: Red Ace S1-Advance Socks
Sock n. (pl. ~s,). Short stocking usu. not reaching knee. Simple really.
Sock n. (pl. ~s,). Short stocking usu. not reaching knee. Simple really.
Your feet are one of the three contact points whilst riding a bike. Comfort and efficiency are paramount to ensuring you get the most from your ride.
Launched by Australian company, Red Ace, the s1-Advance sock is at the forefront of cycling sock design featuring a wrap around arch support with a Y-shaped heel, contoured fit and a smooth, flat toe seam to ensure that comfort is maximised. Not only that but the sock also has an ankle grip collar that prevents chafing of the heel?s skin surface and makes it easy to adjust while you?re riding.
The sole of the sock is designed from an exclusive silver-coated textile fibre which is anti-microbial and eliminates odour-causing bacteria and athlete?s fungus. They also feature permanent anti-static properties and are thermodynamic so that no matter what season, sunshine or rain, your feet are warmer in the winter and cooler in the summer.
The upper material of the sock can actually transfer moisture 30% faster than ordinary cotton and can dry in half the time. There are also two channels for advanced heat dissipation.
So how do the socks ride? On an early Sunday morning in the Brisbane sunshine, my first impression was like pulling on a glove. The socks fitted so well and they immediately felt at home on the end of my feet. After a few hours in the 30?C+ heat, my feet still felt reasonably dry and cool and the socks had not twisted around in my shoes thanks to the very well thought out wrap around the arch. Sitting back to enjoy the ocean views with a well earned Caf? Latte, my feet noticeably cooled just as soon as my shoes were off, highlighting the air flow through the channels and vents just as Red Ace claims it does. I have no doubt that despite the barriers offered by my shoes, the same process continues whilst riding.
My first impressions were very good and after a few weeks of continual wear, they?re still holding their shape despite many washes. Aesthetically, the socks look good with their striking red logo and thankfully, despite the trend set by a certain LA in the past couple of years, these socks do not ride half way up your calf (leaving an horrendous tan line fashion faux pas which is unforgivable!). The s1-Advance is probably the most comfortable sock that I have ever used and a few pairs of these would surely be a useful addition to any cyclist?s wardrobe.
The s1-Advance is available exclusively from Red Ace online and is available for world wide delivery.
Your comments