08/5/2014
|
by Roadcycling.com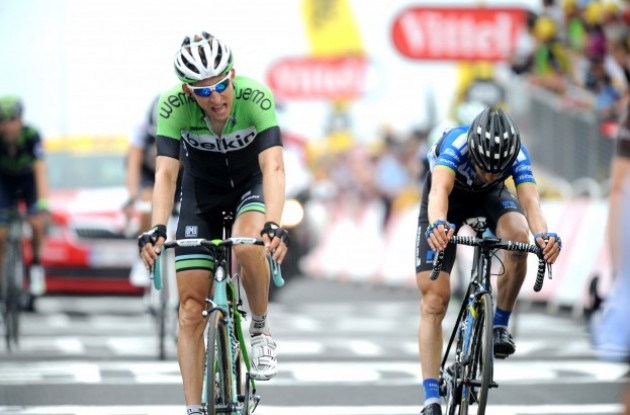 Mollema Signs Two-Year Contract with Trek Factory Racing
Trek Factory Racing today revealed the addition of 27-year-old Dutch rider Bauke Mollema to its team for the 2015 and 2016 seasons.
Mollema, who finished tenth in the general classification of this year's Tour de France, is expected to add needed strength to the stage racing contingent of the team and bring new fire-power to the general classification goals of the team. This far, Trek Factory Racing has relied on the anticipated strength of the brothers Schleck, both of whom have disappointed miserably.

Mollema is transferring to Trek Factory Racing from Team Belkin-Linksys, which is said to shut down at the end of the 2014 season. He will be the third Dutch rider on the team.

"I am very happy with this opportunity with Trek Factory Racing," says Mollema. "I have had really good talks with Luca Guercilena. I can really feel the trust they have in me."

According to Mollema apparantly "The structure of the team is really solid and I like the vision of the management. The Trek bikes were also a major factor for me and the standards are obviously really high for a team that is owned by the bike supplier."

"Bauke (Mollema) has shown a very consistent development as a GC rider, both in one week races like the Tour de Suisse and in Grand Tours," Trek Factory Racing General Manager Luca Guercilena explained. "He is also a high-potential rider for the hilly classics, as he has shown last weekend by taking second place in the Clasica San Sebastian. We believe in him and we want to help him bolster his talent."

"I feel like this team will give me the space to grow as a rider," says Mollema. "A new environment and new faces will be good for me, I believe."

Mollema has banked three Grand Tour top-ten results in his professional career this far. He finished fourth in the 2011 Vuelta a Espana and sixth and tenth, respectively, in the latest two editions of the Tour de France. He also has two podium finishes in the Tour de Suisse and one in the Tour of the Basque Country.
Your comments