08/18/2017
|
by Roadcycling.com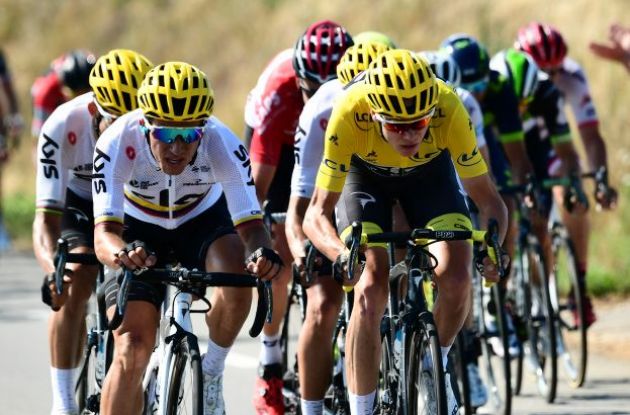 Christopher Froome Interview
Roadcycling.com interviews Team Sky Pro Cycling's Tour de France Champion Chris Froome before the start of La Vuelta a Espana 2017, where he hopes to take his first Vuelta victory.

You've said on previous occations you've got unfinished business at the Vuelta. Can you describe this feeling further to our readers?

It certainly feels as if I've got unfinished business at the Vuelta a Espana. I've finished second three times now, so it would just be incredible to win the Vuelta. It is a race I love doing but it's relentless. The course is always a lot more mountainous than the Tour de France and the conditions are tougher. Being mid-August in Spain, it's quite common to have temperatures up in the mid 40s, which is brutal in cycling. Absolutely brutal.

Who do you consider your main rivals in the 2017 Vuelta a Espana?

My main rivals at this year's Vuelta will be the likes of Romain Bardet and Fabio Aru who were in great shape at the Tour de France. Then there are guys who maybe haven't done the Tour and will have focused more on being ready for the Vuelta. The likes of Vincenzo Nibali, Bob Jungels, and Adam Yates who will also have his brother Simon (Yates) riding with him. As a team I think Orica-Scott pose quite a threat with Esteban Chaves also on the team.

As with every other race we all start on zero and everyone has to be given the respect of being a potential race winner. Only once we get in the race and someone actually loses time, then you can start to discount them slightly from being an overall contender. You've got to take everyone as a threat, as a rival, and remain focused at all times.

What is your opinion on this year's Vuelta a Espana route? Does it suit you well?

I think the 2017 Vuelta has certainly got a good balance between time trialling and mountain top finishes. With nine mountain top finishes it's heavily weighted for the climbers but, with an individual time trial of over 40 kilometers, there could be minutes won or lost there as well. It's a great balance between the pure climbers and the rouleurs who can time trial. I think it's going to be a really exciting and well-balanced race.

Is the Vuelta a Espana a different type of challenge compared to the other Grand Tours?

One thing that really sets the Vuelta apart from other races is where it is scheduled in the season - after the Giro, after the Tour, towards the tail-end of the season. Therefore, you have this mixture of riders who have targeted the Vuelta specifically, and they are in fantastic shape. Then you have other riders who are coming off a big season already and potentially hanging onto whatever condition they've got in the race, and finally you have people who possibly have missed their goals earlier in the season and the Vuelta is their chance to salvage what could have been a tough year for them.

Typically, it makes it a very aggressive race, a very punchy style of racing, and always makes for great viewing and reading for the fans.

What has it been like for you to focus on the Vuelta a Espana following your success in the Tour de France?

It's not easy to go straight from the Tour de France and shift the mindset to suddenly getting ready for another Grand Tour, another three-week race, just a few weeks on from the Tour de France. I think this year in particular it's been extremely hard, given the pressure in those last few days of the Tour. I think it was only natural to get to Paris and then let go a little bit and switch off after such an intense period, so it's been quite hard to refocus again.

Coming up to altitude with my teammates, a group of us who are focused on being at our best for the Vuelta, has made it a lot easier, because I was with guys who are in the same position as me.

I've got a good feeling about this year's Vuelta. I think we've got a lot more purpose and it feels like we're on much more of a mission this year. I don't think we've been to the Vuelta a Espana with a team as strong and as focused on the Vuelta as we are this year and I'm certainly going into the race with a lot of confidence in the team around me.

Tell our readers about your thoughts on aiming for the Tour de France/Vuelta a Espana 'double'

It's been a huge motivation for me, given that no one in the modern era has done the Tour/Vuelta double. It's an even bigger challenge for me than just targeting the Tour de France, so my motivation couldn't be higher at this point.

You weren't as dominant in this year's Tour de France as you have been in past editions. What are your reflections on your victory in the Tour this year?

Looking back, it feels as if it was the most closely fought battle I've had at the Tour de France. Right up until stage 20 and the finish line in Marseille, the pressure couldn't have been higher. It could have gone either way, and it was only when I crossed the finish line in the stadium in Marseille, that it really sunk in and I thought to myself 'OK, I've won the Tour de France for the fourth time. I've just got to get to Paris now.' Right up until that point, it was such a close race.
Order the gear you need for this season and beyond in our bike shop and subscribe to our training tracker service to track, plan and analyze your training and nutrition. Pro cyclists from Cannondale-Drapac, Orica-Scott, Dimension Data and Aqua Blue Sport use our training tracker to win professional races such as the Tour de France and Vuelta a Espana: Sign up now.
Your comments