01/7/2009
|
by Dave Osborne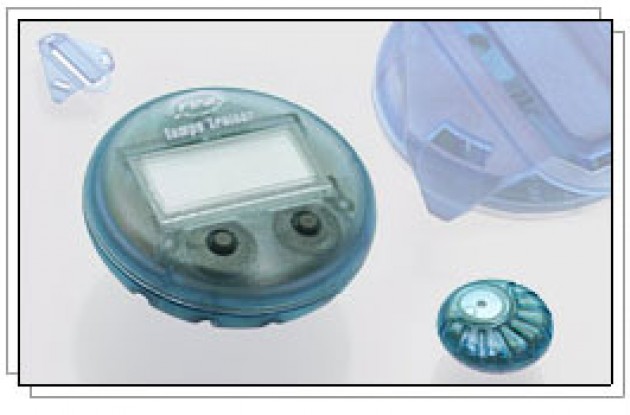 Finis Tempo Trainer Review
I've got rhythm! The Tempo Trainer from Finis Inc sets the pace. Finis states this device can act as a pace coach and develop consistency for cyclists.
My first instinct was to mount this on my handlebar and see what it does. It's not designed for that location and there's nothing to look at anyway. You only need to hear it beep. Slip it on your helmet strap using the included clip. Choose the time for your specific pace or goal and the Tempo Trainer will beep on the programmed time. The range can be minutes, seconds, and even tenths.
I thought a good use for this was cadence on an exercise bike. Set it to beep on every stroke like a metronome. Mode 2 is suited to maintain pace for laps, distance or intervals. I wish it could be programmed to do increasing step intervals such as one minute on/off, then two minutes, then three, etc.
Another idea is to use it as a dinner bell. I always preach to eat or drink at least every fifteen minutes when riding or racing. So, set the countdown timer for fifteen minutes and listen for the beep. You'll salivate like Pavlov's dogs!
You say you're a triathlete? Great, the Tempo Trainer is perfect for swimmers too. This also means there's no need to worry about it getting wet during a rainstorm while on the bike.
The Tempo Trainer may not be flashy, but it has a lot of potential. Use it as a training aid in cycling and other sports. Own one and you too can have rhythm!
Learn more at http://www.finisinc.com/products-tr-tempotrainer.shtml
Your comments