06/29/2004
|
by Tom Southam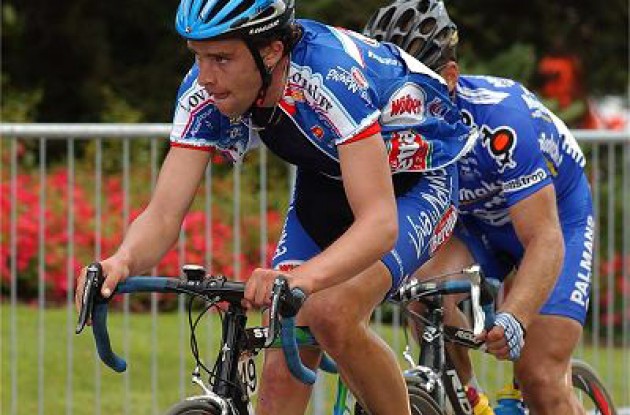 Tom Southam Diary
Hold on a second, we have an injury.
First year British pro, Tom Southam, shares his view on life in the bunch as part of the Italian Amore e Vita Professional cycling team. <?xml:namespace prefix = o ns = "urn:schemas-microsoft-com:office:office" /?>



Hold on a second, we have an injury. Yes I've been down again, not quite into the gutter but close enough, sliding as I did all across the pavement in an incredibly neat corner of

<?xml:namespace prefix = st1 ns = "urn:schemas-microsoft-com:office:smarttags" /?>
Finland. Now it may seem to some people that I could well be in need of some bike handling lessons, certainly some of my mates have pointed this out in highly amusing fashion after this latest tumble. However I have actually managed to do some races lately where I've managed to keep my bike upright for the whole race, and at speed too. In fact I've had a pretty good couple of months between the crashes that have so neatly punctuated my racing.

The spring culminated with some really nice races and a few glimpses of sunshine. The biggest of which was for me at least one of the most unpleasant yet educational races of my career, Further education if you like, into suffering. Anyone who's ever rode a bike in the Trentino region will possibly be able to empathize with me on this one. It's fairly hilly round there as it would turn out and the Giro di Trentino being the last big stage race before the Giro d'Italia takes in most of those hills at least a couple of times a day. Going into a race with the full Giro field would already be a decent enough task but going into one coming back from injury becomes a very interesting proposition indeed. I accepted that I would be going a bit piano there, and thought that I'd just have to settle for cruising around in the gruppetto chatting and watching the Italians amuse each other with the usual antics (squirting water at women on the road side, getting off and walking a couple of meters on a steep climb, ho ho). My old boss Jelle (Nijdam) used to tell me that the mountain stages in the Tour de France were the happiest days of his life. With his job done in the first week (prologue or flat stage win normally) he'd just roll around in the sun pedaling his pushie without a care in the world.
It wasn't really a lot like this though as Trentino has no flat stages early on so as I realized to my horror on stage one no one without any sort of climbing prowess turned up and I was destined to have to turn myself inside out on mountain slopes just waiting, waiting for a suitable number of people to be dropped before until I could slide south safe in the knowledge there was a decent sized group behind to get to the finish with. There was a couple of particularly grim moments when I slipped back as far as the second team car with only a chubby and very red faced Quick-Step rider for company and well over 100 km of
Your comments