12/10/2012
|
by Neil Browne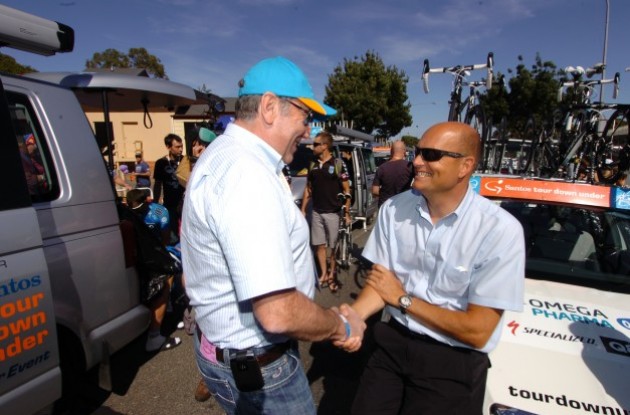 So many topics - So little time
Just when you think the off-season news cycle might slow down, it kicks into overdrive.
or writers to make money from cycling by publishing a book. That's their job and how they make a living. My only problem is when they conveniently hide or ignore the truth about their subject so they can sell more copies. I have a HUGE problem with that.
I'll finish up this portion of my column by basically repeating what I said last week – CCN is a great idea and this is a watershed moment in the sport of professional cycling.
Moving to a different topic - we're starting to see teams solidify their rosters. Mark Cavendish joins Omega Pharma-Quickstep. While I enjoy watching Cavendish and it will be interesting to see him racing with Tom Boonen, this year the Omega Pharma-Quickstep team will get nothing but a polite golf clap from me. They have enacted some type of "not quite zero-tolerance" policy for the team.
According to Levi Leipheimer, his team Omega Pharma-Quickstep knew he was going to admit to doping in the past and was supportive. However, when the news came out the team suspended him and then terminated his contract. That's kind of harsh as it doesn't give anyone on the team a reason to admit to past doping offenses. Instead it continues to enforce an omertá policy.
To cynical people like me it appears that Omega Pharma-Quickstep saw a way to increase their budget by eliminating Leipheimer's salary and using that, along with some additional money, to bring the Manx Missile into the fold.
For me the real kicker and the reason Omega Pharma-Quickstep will get nothing more than a courtesy clap from me is the Belgium-based squad hired a doctor with a dodgy past - Dr. Jose Ibarguren Taus.
The Cyclismas website has an article outlining the Spanish doctor's past which includes stints at Banesto, Lampre, Saunier Duval, and Lotto - to name a few. I'm not saying the doctor was running an organized doping program at each and every team, but after reading, "So just who is Dr. Jose Ibarguren Taus" it gave me some pause.
Without a doubt we'll see Cavendish and Boonen on the top step of a podium in 2013 and I'm hoping that Dr. Taus' reputation doesn't sully those victories.
My last point of this post is the breaking news that the UCI announced the final list of WorldTour teams for 2013. No big surprise Argos-Shimano made the cut, but just like in a M Night Shyamalan movie there was a twist at the end.
A team we thought was going to be stuck begging for entries into the big races, Saxo-Tinkoff, got the WorldTour nod. Looks like we're going to see the Contador versus Chris Froome battle in the Tour de France this July after all. But that's not the twist I'm referring to. At the bottom of the UCI press release was the "I see dead people moment" - Team Katusha was denied a WorldTour license.
Wait...what??? You'd think a team which features current WorldTour leader Joaquim Rodriguez and which finished the 2012 season in second place in the
Your comments