07/15/2005
|
by Ian Melvin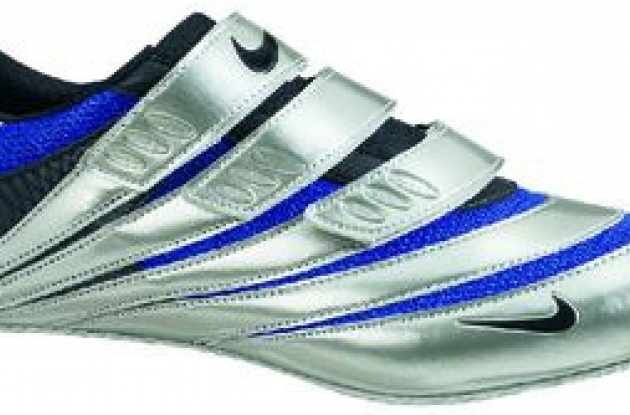 Product Review: Nike Poggio III
First impressions can often make or break a relationship and what an impression these shoes make.
this certainly does not appear to have any detrimental effect on the closure and in fact, probably does enhance the fit.  Across the top of the shoe, below the straps, is a stretchy sock, as opposed to a more traditional leather tongue, further adding to the comfort of the Poggio III?s.
On the feet, the shoes feel great.  Most importantly, for anybody looking for a pair of high performance shoes, the Poggio III?s are very rigid, with no obvious flexing in the sole.  Once clipped into the pedals, they continued to perform , as you would expect from a shoe used by professional riders the world over, and after a few hundred kilometres of riding, I still have not experienced the dull ache in my feet that is often associated with new carbon soled shoes.  A complaint that can often be overcome by simply adding a padded insole into the shoe.
The original fears I had about whether the Poggio III?s would be too wide for a secure fit for my narrow feet did at first appear to be justified when I slipped the shoes on.  The designers at Nike however must be onto something.  As soon as I fastened those curved straps, the shoes were pulled into place and fitted my feet just as securely as a tried and tested pair of my favourite Italian shoes.
Overall, I?m very impressed.  The Nike Poggio III is clearly a high performance shoe and does everything that you would expect at this end of the market.  Light, rigid and with a great looking design, the Poggio III is certainly a nice shoe and one worth considering the next time you go shopping.  I suppose the only thing that may detract some customers is that oh so shiny silver finish.  Still, you cannot please everyone...
Visit Nike Cycling online at http://www.nikecycling.com/
Your comments