06/17/2004
|
by Dave Osborne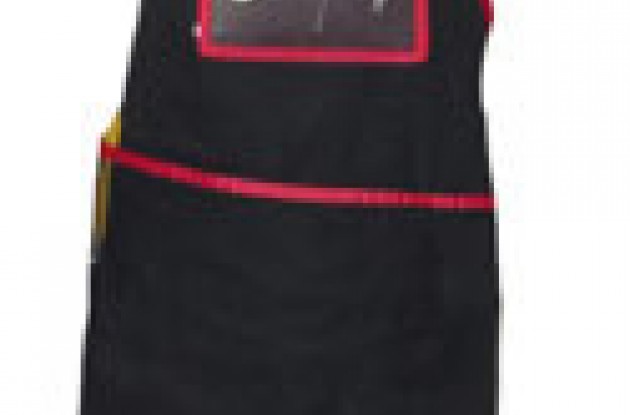 Product Review: Finishline Apron
Review of Finishline's new professional shop apron.
What do you do on a rainy day when you can?t ride? Clean, clean, clean! <?xml:namespace prefix = o /?>
Whether racing hard and fast or doing a Sunday afternoon group ride, a clean bike will perform better. There are a variety of products that will help you do the job, but why not pick the industry leader? Since 1988, Finish Line has been bicycle specific products and is now the world?s leading manufacturer of lubricants and cleaning products for the bicycle.
The first place to start is putting on the new professional shop apron. This newest product has all the bells and whistles and was obviously a well thought out design. It?s no light weight piece of cloth either. This heavy duty apron is 16 ounce cotton canvas. It hasn?t been hot enough to tell, but I think it could get uncomfortable working outside in the heat.
I was amazed by the magnetized chest pocket! Remember all those little screws, bolts, and washers that you set somewhere so you don?t loose them and then can?t find them to put back on? Hey, now you can just stick them to your chest! It is up high enough on your chest to keep items from getting knocked off a majority of the time. This is the greatest nerd type pen holder I?ve ever seen! There is a pocket compartment behind the magnet and additional slots behind it for pens, small screwdrivers, etc.
The length of the apron can be adjusted to three different lengths by folding it under and snapping it in place. Basically, it can be above the knee, at the knee, or shin length. There are three huge hip pockets. One of the pockets is mesh so you can easily see what item is there. Use the handy clip on the left side for quick access to your bottle opener! er?I mean multi tool or keys.
There is plenty of adjustment in the straps to fit many girths. If you can click one buckle, you can wear this apron. Slip your head through the two straps that form an X over your back, then grab the waist strap and buckle it!
Throw this in the wash with your jeans and it comes out good as new. I like the finished edges of the apron. Maybe if you?re lucky, there might be some money stuck to the magnet when you take it out of the wash!  
Support Roadcycling.com by buying Finishline products online at PerformanceBike (search for finish line, not finishline).
Click here for part two of our Finishline product review...
Your comments