04/20/2006
|
by Thomas Valentinsen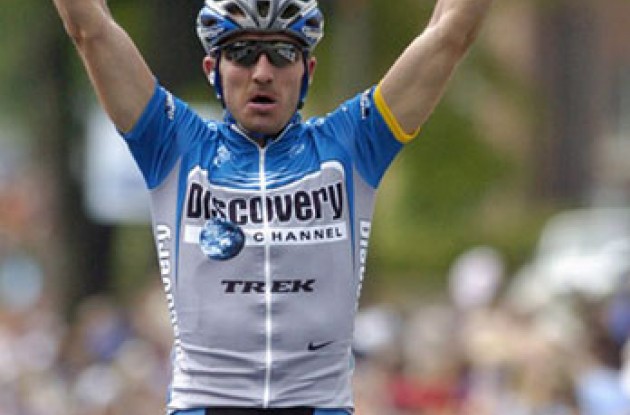 Popovych Takes Stage 2 of Georgia Tour; Takes Race Lead
Yaroslav Popovych (Discovery Channel) has won Stage 2 of the Tour of Georgia.
Yaroslav Popovych (Team Discovery Channel) has won Stage 2 of the Tour of Georgia. The Ukrainian surged away from the field in the last km to win the 186.9-km ride from <?xml:namespace prefix = st1 ns = "urn:schemas-microsoft-com:office:smarttags" /?>Fayetteville to
Rome in 4:47:39. Juan Jose Haedo (
Toyota) outsprinted Fred Rodriguez (Davitamon-Lotto) for second at 0:06. Popovych?s victory has given him the overall lead.
<?xml:namespace prefix = o ns = "urn:schemas-microsoft-com:office:office" /?>
One rider was in front nearly all day. That rider was Alejandro Acton (TargetTraining). The Argentine surged in the wind and rain at 10 km and had forged a 10:30 lead with about 85 km left. The peloton did not begin to chase until about 50 km remained.
Davitamon went to the front. Phonak, CSC, and Lotto joined in the effort, and
Acton?s lead came down rapidly. With 26 km remaining, three minutes separated the bunch from the break. With about 15 km left,
Acton was captured.
Kirk O?Bee (Health Net) counterattacked. He led over the summit of Clocktower Hill but was caught quickly. Phonak led the field into the second ascent of the hill.
On the second of three finishing laps, Matthew Rice (Jelly Belly) attacked. He forged a 100-m lead, but Quick Step, Navigators, Health Net, and
Toyota led the pursuit that reeled in the Jelly Belly man. Discovery Channel went to the front.
On the final ascent of Clocktower Hill, Popovych attacked. His erstwhile companions looked at each other instead of chasing him, and the Discovery Channel man took the win.
In the overall, Popovych leads Rodriguez by 0:04 and Haedo by 0:07. Stage 3 will be important. The 39-km time trial from Chickamauga, Georgia to
Chattanooga, Tennessee will not decide who will win the race, but it will indicate who has the form to do so. Who will prevail? Popovych? His teammate, defending champion Tom Danielson? Floyd Landis (Phonak)? David Zabriskie (CSC)? Check in at http://www.roadcycling.com/ and find out!
Your comments