09/20/2004
|
by Ian Melvin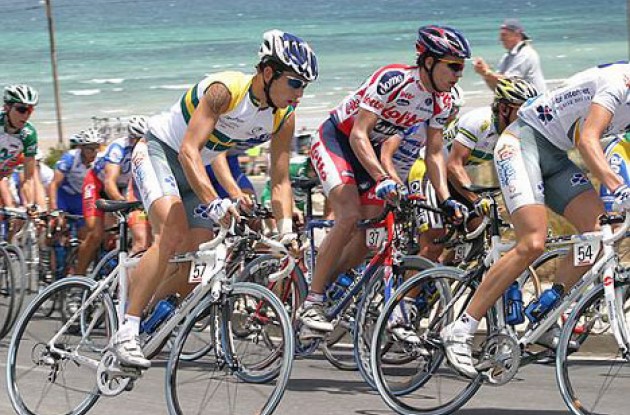 Matt Wilson Interview
Matt reflects on a season which has so far included two three-week tours and a handful of world cup races for the Australian champion.
Matt Wilson?s season began back in <?xml:namespace prefix = st1 ns = "urn:schemas-microsoft-com:office:smarttags" /?>
Australia by winning the national championships in January.  The recent removal of his wisdom teeth has enabled the young Aussie to sit back, enjoy the beach a little and reflect on a season which has so far included two three-week tours and a handful of world cup races. <?xml:namespace prefix = o ns = "urn:schemas-microsoft-com:office:office" /?>
What makes Matt?s story all the more amazing is that just a few years ago, when part of the Italian-based Australian U23 team, he was diagnosed with Hodgkin?s disease ­- cancer of the lymph glands.  Through months of suffering, he took inspiration from the children around him in the hospital ward.  After recovering, the now 26 year old decided to chase his dreams and returned to his bike and racing.
We managed to catch up with Matt at his base in
Nice, France, as he began preparations for the end of season races culminating at the Paris-Tours.
IM: After the success FDJeux.com experienced in last year?s Tour de France, how do you feel about this year?s race?  Brad withdrew due to injury and then
Baden just didn?t seem to have the form of last season.  What positives have you and the team taken away from the race?
MW:  It would be impossible to expect that every year is going to be as good as or better than the last. Everyone has ups and downs, but I think that what you do when you?re down counts for a lot as well. Maybe on the scoreboard it was an unsuccessful Tour de France, but I think myself and
Baden both learnt a lot about ourselves this year and I think that we will be able to draw from that in the years to come.
IM: Was it difficult to cope with the loss of your team leader and close friend so early in the race?  Was placing Brad high on GC a major objective of the team after his Giro performance?  How easy is it for a team to adapt its tactics when in that situation?
MW: It was a massive blow to lose Brad and it did affect the whole team and especially
Baden who needs Brad in the finish more than anyone probably realizes. But road cycling is not a sport where tactics must always be played out to the letter.  Tactics have to be completely flexible because everything can change in a second, so it wasn't like our whole tour was just thrown into disarray. It was a big blow but the race goes on. As far as having Brad ride for GC that was never the plan in the first place. Even his great ride in the Giro wasn't pre planned. If his legs where as good as in the Giro, he was going to see what he could do, but if not the team and Brad decided that with the Olympics [coming up] and [having completed] the Giro, that to ride GC at the Tour as well was going to be too much.
IM: How has it felt carrying
Your comments