08/22/2004
|
by Julian Dean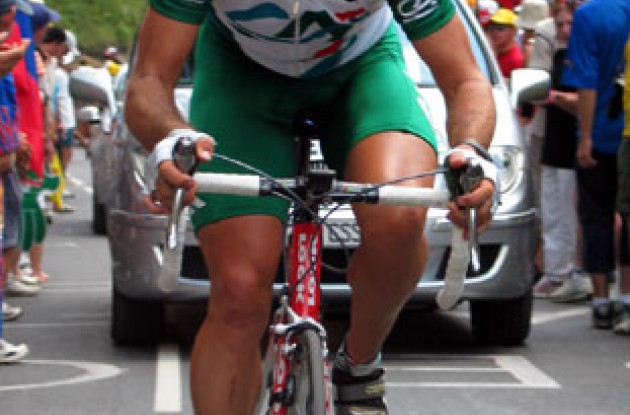 Julian Dean Diary
Since the Tour and in fact even before the Tour, a major focus of mine has been the Olympic Games. I had heard that the course was not super hard and with only 5 riders per nation, anything was possible.
On my arrival into <?xml:namespace prefix = st1 ns = "urn:schemas-microsoft-com:office:smarttags" /?>
Athens two days before the race, I went to check out the course. It gave me a bit of a fright because it looked a lot harder than I had expected and I promptly decided that it wasn't going to be as easy as what people were predicting. Nonetheless I had zero to lose and I was going to give it a bloody good nudge. I would make sure there was nothing left in me to give come a cm after the finish line... <?xml:namespace prefix = o ns = "urn:schemas-microsoft-com:office:office" /?>
I had felt that my preparation had gone even better than I had hoped. I had recovered well from the Tour and since an average ride in the Hamburg World Cup, I had worked hard on reinforcing my power and strength. I felt that with a little luck and some good decision-making, there would be no reason why I couldn't be a medal contender.

My race plan was to wait, wait, and wait some more. It was expected to a blinder of a hot day which would mean the rate of attrition would be high. If I could conserve my energy for as long as possible, hopefully I would be able to follow the front guys up and over the climb in the latter stages of the race. All going well, I'd be able to come to the finish with the 10 or so who were expected to be there and then I would be in with a chance.

On the 14th August, the
Athens heat turned out to be a killer. I couldn't believe how hot it was. I was baking on the start line and thought about how hard it was going to be to spend 5 hours out in this oppressive heat on this course. It was a technical and tight course with a lot of ups and downs, allowing very few places to recover. I knew that I would have to be in stellar form to pull off a good race.

I sat well back in the peloton and waited for the first half of the race to pass me by, concentrating on staying hydrated more than anything else. After 100km, things started to move and as the Aussies and the Germans started to drive the peloton, the real racing began in earnest. Still I watched and waited, riding near the front but staying out of the wind. From time to time, groups would go away but they were never good enough to stick. Magnus Backstedt was away the longest but there was never any doubt that he would be reeled in. It seemed like the course was too technical for anything to stay away and the re-grouping of the peloton after the descent kept the speed up, effectively quashing any breaks.

As we neared the end, however, I was
Your comments