09/9/2013
|
by Neil Browne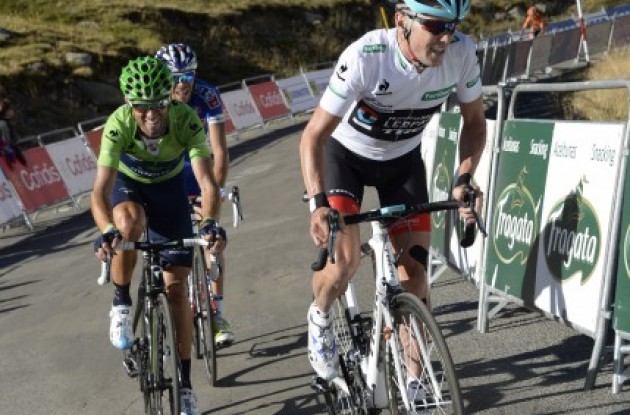 The Horner Conundrum
Chris Horner is over 40 and could win a grand tour. Let's take a deeper look.
odds against Father Time and is less than 30 seconds from taking the lead in the 2013 Vuelta a Espana. Keep in mind, this performance is after a five month layoff from training due to surgery for an IT-band issue that exacerbated a knee problem. Then, after a three week block of good training starting with the Tour of Utah, he's back at his fighting weight and ready to start his battle for the podium at the Vuelta a Espana.
In a recent interview Horner recognizes this frustration about his coyness regarding the doping issue and said so. But where does it leave the tifosi that know more about the recent history of the sport in contrast to the more casual fan that has grabbed onto the human interest story headlines of a 41-year-old beating younger riders? For one, we can't go "Salem Witch Trials" and persecute anyone on just speculation or on a statement that can't be verified by another independent source. However, if Horner wants to earn the respect of all cycling fans he can't stick his head in the sand, wish the doping era never happened, and refer difficult questions to the team mouth pieces.
Of course it's too late for him to raise his hand and say, "Yeah, back in the day I doped. But in 2006 I stopped..." An admission like that now isn't going to give him any leniency with USADA. Also his contract with RadioShack/Trek ends this year, so Horner needs an extension or at least a new deal somewhere.  Admitting to doping now would scuttle any leverage he might have in a negotiation. "So yeah I did dope, but I swear I'm clean now and you won't have to worry about any positive doping results coming from me ever. I swear!"
So far Trek, the owners of the RadioShack-Leopard team in 2014, haven't offered him a contract. As noted in a previous post, Trek is putting all their marketing eggs into the Fabian Cancellara basket for the spring classics. While the Schlecks are kitting up in Trek colors next year, not many people are giving the Luxembourg brothers a serious chance against the stage race machine that is Team Sky (though I previously declared 2014 would be the year of the Schlecks). With Fabian, Trek wisely saw their opportunity to back someone who has a much better chance of winning something of note as well as pushing a few Treks out the bike shop door. So where does that leave Horner?
Horner is a tactically smart stage race rider who has won the Tour of California and the Vuelta al Pais Vasco, along with numerous high GC placings, and stage victories along the way. Horner himself argued that he was in with a real chance of winning the 2011 Tour de France until he crashed out. But here's the dose of reality. In 2014 Horner will be 42 years of age. At that age, top-end speed, recovery, and strength all are diminished. Sure he's tearing it up now, but what about next year? Can
Your comments