08/22/2004
|
by Dave Osborne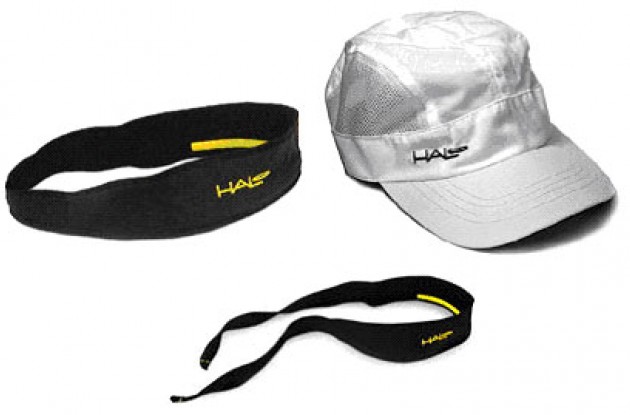 Halo Headband Review
Roadcycling.com reviews Halo headbands and hats.
Sometimes, headbands, caps, and do rags just end up holding your hair in place rather than keeping sweat off your face. Not so with Halo Headband products. <?xml:namespace prefix = o ns = "urn:schemas-microsoft-com:office:office" /?>
One of the most common aspects of a headband is the wicking property of the fabric. Unfortunately, the rate of perspiration can overcome the ability of the fabric dissipate the moisture. You still find yourself using your T-shirt or jersey sleeve to wipe away sweat from your face. Or, it gets on your sunglasses and distorts your view.
It was obvious how Halo solved this problem. A simple but most effective solution was for the creators of Halo to put a watertight strip on the inside of the headband. This strip feels like rubber and is thin enough so it remains comfortable against your forehead. The strip diverts the perspiration away from your eyes. You can always count on cyclists (who founded Halo) to create something simple yet effective.
To put it to the test, I first saturated the Halo Headband, sport hat, Halo II, and Halo Protex with water. After a couple hours of racquetball, I realized I never once had to wipe my face with my T shirt or clean sweat off my goggles. The next test on the bike was the same. I thought the position of leaning over would surely allow sweat to run down on my eyes. Halo Headband products performed as advertised and eliminated a pesky annoyance. The products also evaporated moisture through the Dryline? fabric.
The standard headband ties while my favorite was the Halo II elastic, one size fits all.
There is also a bandanna style Protex and a sport hat. The Anti-Freeze band had a wider design for covering your ears in colder weather. The inventors at Halo thought of everything and they made it work! As they say, ?don?t sweat without it!?
For more info, visit http://www.haloheadband.com/.
Your comments