05/5/2011
|
by Thomas A. Valentinsen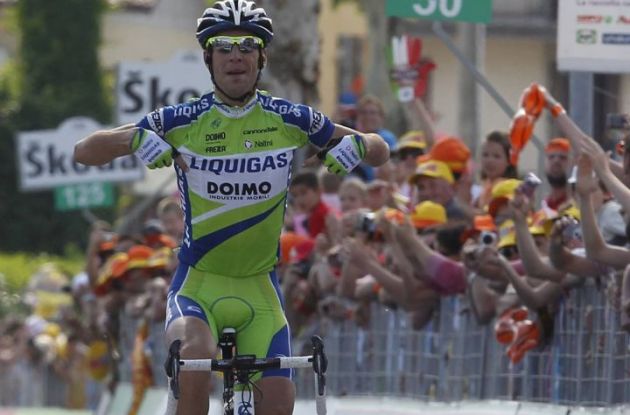 Vincenzo Nibali Heads Team Liquigas-Cannondale in 2011 Giro d'Italia
Team Liquigas-Cannondale's line-up for the Giro d'Italia 2011 has been announced.
a team spokesman this decision was made because Basso was too unfit to be able to help Nibali secure the overall Giro d'Italia victory. Cycling commentators, however, speculate that Ivan Basso was not willing to ride for Nibali as a support rider. Rumor also has it that Basso is refusing to ride any Grand Tour if he is not the sole team leader.
"Not taking part in the Giro d'Italia is a huge sacrifice for me," Basso said in a statement previously released by the team.
"But there's no way my current level of fitness would enable me to do it justice. In our plans at the start of season, we thought I'd do the Giro and then the Tour de France with the aim of flanking and supporting Vincenzo Nibali on his quest for the pink jersey. I was hoping to feel something right up to the last moment that would reassure me and give me confidence. But unfortunately those feelings didn't come," Basso added.
"All I can say to the Giro d'Italia fans is "arrivederci." The idea of winning the pink jersey a third time before I retire is still firmly fixed in my brain," Basso concluded. It remains to be seen if Basso will be wearing the Team Liquigas jersey when making his final quest for a third Giro d'Italia victory.
According to Team Liquigas-Cannondale manager Roberto Amadio "If we'd let Ivan race, we'd have been able to offer Vincenzo (Nibali) an unparalleled wealth of experience and skill. But his fitness won't let us and we think we've made the best decision otherwise we'd be risking our preparations for the 2011 Tour de France. We'll be doing our very best to honor the Giro, just as we've always done. Vincenzo and his teammates will aim for a repeat performance of Ivan's accomplishment and give us a new and immensely satisfying result."
Watch video highlights from each stage of the 2011 Giro d'Italia in the video section right here on Roadcycling.com and watch live coverage from the Giro on www.universalsports.com/cycling. Tell your friends about Roadcycling.com's 2011 Giro d'Italia coverage.
Team Liquigas-Cannondale roster for the Giro d'Italia 2011:
Vincenzo Nibali, Valerio Agnoli, Eros Capecchi, Tiziano Dall'Antonia, Alan Marangoni, Fabio Sabatini, Cristiano Salerno, Alessandro Vanotti, and Sylwester Szmyd.
Your comments